Filipina/os in Riverside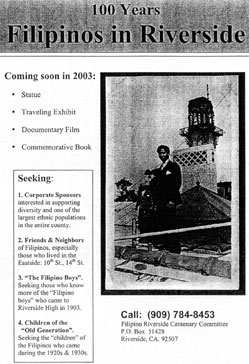 Historian Christian Arquillo Trajano, Ph.D. Candidate, has conducted research on Filipina/os in Riverside since 1999. The information here is based on his work, which is inspired by his family's 100-year-old ties to the Inland Empire. Trajano curated a museum exhibit on "100 Years of Filipinos in Riverside " with the Riverside Metropolitan Museum in 2004 and fronted efforts to offer a clearer picture of Filipina/o involvement in Riverside history.
Some of the earliest Filipinos arrived in Riverside as part of an international agreement between the U.S. and the Philippines in 1903. About one hundred young Filipinos-all men, and quickly known as "the Filipino boys"-came to the U.S. to spend four years attending high school and college, paid for by the Philippine government. They arrived in the U.S. in November 1903 to much fanfare. Regarded as some of the most promising young men of their country, they attended Stanford and UC Berkeley, among many other sites. Some (either 14 or 16, according to different accounts) came to Riverside and attended Riverside High School. One of them, B. Agana, published a short story in the high school magazine-see "Paralyze and Blind" below.
| | |
| --- | --- |
| | |

By the 1920s, Filipinos were in Riverside to work in the citrus industry. A notice in the newspaper from 1923 suggests that there were enough Filipinos in the city to hold dances and other social events. The "Filippino String Orchestra" was probably a rondalla ensemble. Rondalla is still very popular in the Filipina/o American community as a heritage music.


UCR's Rondalla Ensemble, directed by Tagumpay de Leon (far right), performing at the opening ceremony for the "100 Years of Filipinos in Riverside " exhibit at the Metropolitan Museum, 2004.
A newspaper article from the Depression era speaks to labor tensions. A front page article in the Riverside Enterprise on November 25, 1931 titled "Filipinos Brought to Riverside Area for Orange Picking" expresses white anxiety over Filipino workers:

Group hoping to begin work on December 1.

Crowded Into Cottage Court on Tenth Street; Come From Throughout State.

At a time when more than 300 jobless white men have registered on Mayor Joseph S. Long's list of unemployed and are and are glad to get work three days a week digging ditches, a group of from 50 to 60 Filipinos has bneen imported into the Riverside district to pick oranges.

The Filipinos, crowded six or seven to a room, are housed in a court of coittages at 2510 Tenth street and expect to go to work on Dec. 1 in groves near the city, according to Alfonso de Dios, Filipino labor contractor. Dios brought the group to Riverside some three weeks ago, he said, and obtained quarters for them, pending the beginning of the orange picking season.

Declares Picking Contract Promised

Dios last night declared that his crew, which was formerly in the Chino district and is comproised of laborers recruited throughout the state, had been promised an orange-picking contract by shippers for which George H. Gobruegge is the manager.

Mr. Gobruegge, however, denied that he had employed the Filipinos. The foreman, he said, had called at his office and he, Gobruegge, had told him that there "might be work later" in the season.
Eliseo Art Silva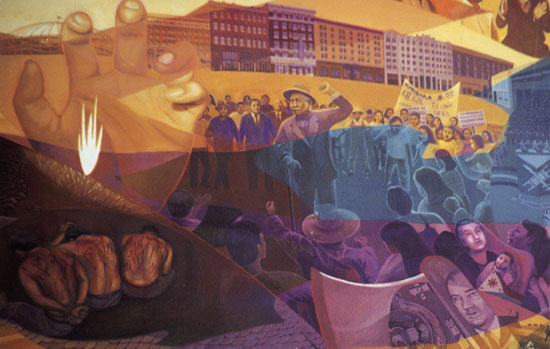 "Can You Read the Secrets of History in My Face?" (1999), by Eliseo Art Silva, for the Carlos Bulosan Memorial Exhibit, the Carlos Bulosan Workers' History Project, Seattle, WA. (Contact the NW Labor & Employment Law Office in Seattle www.lelo.org for more information and viewing.) (Photo by Rick Wong.)
Riverside artist Eliseo Art Silva has been commissioned by the City of Riverside to paint a public mural in the La Sierra neighborhood.
Silva was born in the Philippines in 1972 and has an international reputation for his murals. Much of his work addresses Philippine history and the Filipina/o diaspora. He attended the Riverside Community College and has exhibited work at the Sweeney Gallery, UCR. He has public art works at several locations in Riverside including:
"Life is a Jungle...Prepare!," 85' x 8', acrylic, Jurupa Valley High School , Riverside , CA

"College Life and Advocacy," 8 x 24, acrylic on canvas, UCR

"Knowledge Carries Us to a Higher Plateau," 30' x 10', acrylic, Rubidoux High School , Riverside , CA

"Children are Flowers of the World," 10' x 20', acrylic, Butterfield Elementary School , Riverside , CA
"The Gem of the Land and the Sea," 10' x 35', acrylic, Butterfield Elementary School , Riverside , CA
Silva painted the nation's largest Filipino American mural, titled Gintong Kasaysayan, Gintong Pamana (145' x 25') in Historic Filipinotown, Los Angeles
See http://www.eliseoart.com for more information on Silva's work.
Christian Arquillo Trajano is pursuing a Ph.D. in the Public History Program at UCR. Trajano's on-going research led to the formation of the Filipino Heritage Fund helping among others, the son of Cesar Chavez (Paul Chavez) who personally requested for Trajano's help researching the United Farm Workers union's earliest Filipinos and their desert roots here in the Inland Empire. The Filipino Heritage Fund has supported the "100 Years of Filipinos in the Inland Empire" heritage project.